Open Net co-hosted an APrIGF workshop titled "Content Moderation Policy Advancing Tech for Democracy" on August 30, 2023 where Asian Pacific activists discussed the need for and the method of responding to hate speech and disinformation in Southeast Asia while defending freedom of speech agains the rising administrative censorship in the region. 22 people participated online and 22 people off-line, 12 of whom were male and 10 female.
For a detailed recap, please see https://www.manushyafoundation.org/post/stopdigitaldictatorship-dive-into-the-highlights-of-our-session-at-aprigf-brisbane.
Emilie Pradichit, Executive Director, Manuhsya Foundation, discussed how both state-led content moderation/criminalization policies and state-led disinformation is hampering democratic growth in Thailand and Laos and demanded that states uphold international standard of free expression and big techs should uphold UNGP and transparency in state-initiated takedown requests.
Damar Juniarto discussed presentation on content moderation in Indonesia especially under MR5.
K.S. Park proposed revival of Twitter's Safety and Trust Council which developed various community guidelines purely on the basis of harm instead of political values that often underlie government-led content moderation schemes. He proposed that platforms should not emulate governments in that sense and be more pragmatic in suppressing or deamplifying contents, especially government-led or majority led-disinformation.
Lisa Garcia spoke about the Philippines situation and introduced Southeast Asian Collaborative Policy Network, an alliance of 13 organizations in Asia to build CSO-tech alliance against digital authoritarianism.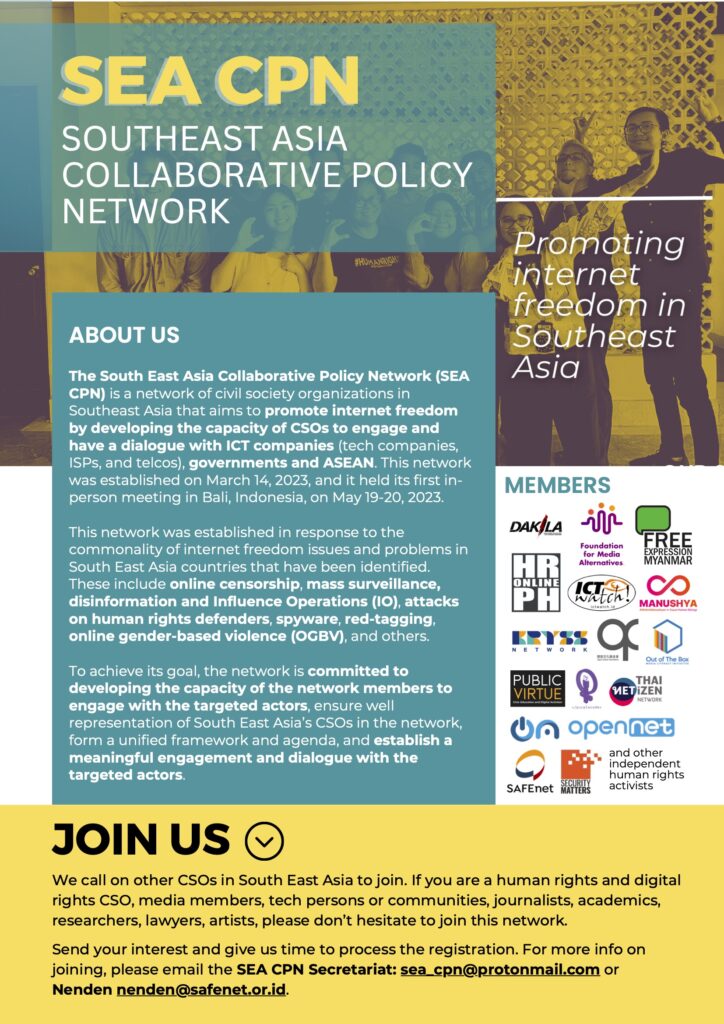 Oliver Spencer spoke on the Myanmar situation where both government-led censorship and government-led disinformation are threatening democracy there.