Open Net co-hosted with ISOC and APNIC an APrIGF session titled "Is fragmentation the future of the internet and how can we resist?" that discussed various ways that the internet can fall into fragmentation, losing the potential for its liberalizing force across the world, on August 31, 2023. It was attended by more than 70 ppl off-line (more than 40 female) and 38 ppl online.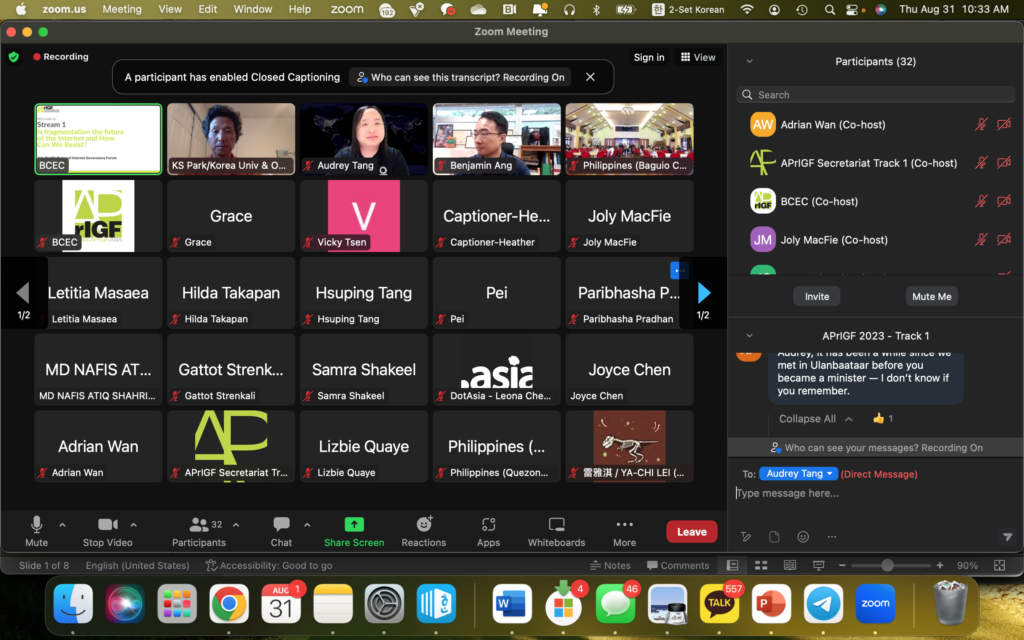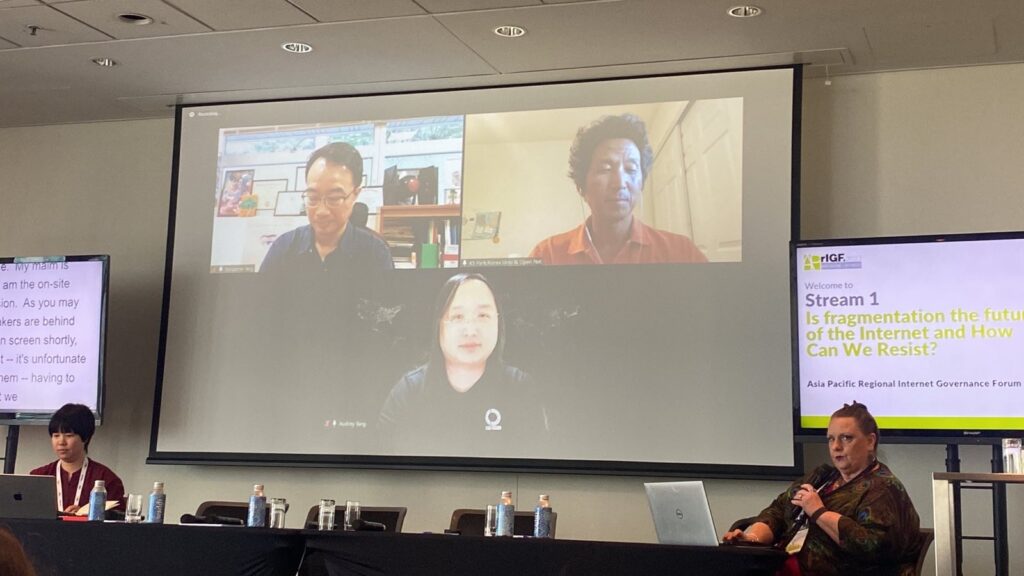 K.S. Park spoke about how the sender pay rule partially implemented in South Korea and being tinkered with by European Commission will cause financial fragmentation of the internet where only the content providers or speakers with deep pockets will be able to propagate their messages and contents further and wider.
Audrey Tang, the communication minister from Taiwan spoke about the government-initiated blocking scheme designed to block malware as follows:
For everyday users, Internet fragmentation leads to a situation of uneven online experiences. According to the discussions at The Policy Network on Internet Fragmentation (PNIF), Internet fragmentations that affect user experience include political developments(such as content censorship)as well as commercial ones, such as an ISP compelling users toward their preferred services while paywalling the rest.
Sometimes the motivation is technical, for example to prevent the spread of malware — DNS RPZ (response policy zones) rules implemented by Taiwan Network Information Center (TWNIC) is a good example. TWNIC manages the .tw DNS and cooperates with domestic telecoms in implementing the RPZ, which restricts the access to malicious domain names through domestic DNS operators.
This year, Taiwan's e-commerce vendors asked TWNIC to extend the RPZ mechanism to defend against fraudsters impersonating their websites. Deployed as the first line of scam protection, the user experience is that of clicking on a phishing link, then seeing a notice: "This domain is involved in fraud cases and has been blocked. If you have any questions, please send an email to 165RPZ."
The "non-store retailer association" acts as a contact window for reporting. After a case is filed to the Police Department, they can then report to our Administration for Digital Industries — a trusted reporter in the RPZ mechanism — to seek a quick response action on fraudulent websites to prevent the public from being deceived by phishing and cybercrime.
Obviously, the RPZ mechanism requires careful multi-stakeholder governance, transparency and coordination, otherwise even the most well-intentioned mechanism can lead to fragmentation, eventually causing harm to basic human rights such as freedom of expression.
To address this concern, both the Police Force and the Administration publish the list of RPZ domains as open data, ensuring quick uptake by participating DNS providers, while human right groups can scrutinise them to facilitate appeal processes and enhance accountability.