Big tech companies' censorships on sexual expressions with focus on impact in Southeast and South Asia
June 7, 2022, 9 pm ~ 10:15 pm, KST
Participate here:
https://rightscon.summit.tc/t/2022/events/big-tech-companies-censorships-on-sexual-expressions-v6j4Sm6yebrKVXUfdgwZo1
The number of information deleted voluntarily by social media platforms such as Facebook and Tumbler have been increasing. Political expressions or other expressions provoking discomfort have been often restored after appeals. Sexual expressions hardly have been restored and their deletions were never put into controversy once they are deleted online. More importantly, there are no legitimate standards of deletion. In 2018, an image of Willendorf's Venus has been deleted from Facebook; in 2019 Rubens' nude paintings from Instagram; and photos of Araki Nobuyoshi from Tiktok. Figuring out which information needs to be deleted or not is costly. So the big techs seemed to have taken strategies of mercilessly deleting all information strictly by sexual content. As a result, sex education resources, the images revealing one's own sexuality, and the images created to challenge and oppose gender discrimination and harassment have been deleted along with child sexual abuse material, rape images, or other clearly unlawful videos.
Most recently, the lack of a consistent standard has been highlighted by deletion of Egon Schiele's nude paintings recently, and men's body images for posting have barely been deleted and celebrities' images can be restored easily by their requests. Even the viewers' right to knowledge has suffered. As a result, fulfillment of sexual identity depends on gender and popularity. Merciless deletion of sexual expression may be effective in the short term but will cause more losses in the long run. It will be impossible to create an environment in which essential information for sexual lives is distributed. An environment inhibiting pursuit of sexual diversity will become entrenched. Ultimately, this will lead to further strengthening of society's conservative tendencies to sexual freedom as we see in the cases of Southeast Asia and South Asia.
Moderator: Kyung Sin ("KS") Park, Professor, Korea University, Executive Director, Open Net Association
Panelists:
Hvale Vale, Sexuality and Networks coordinator at Women's Rights Programme, Association of Progressive Communications 
Dhyta Caturani, Helpline SEA Regional Coordinator, Access Now
Bishaka Datta, Executive Director, Point of View
Kyoungmi Oh, Researcher, Open Net Association
Kyoungmi Oh's presentation: 
1. How can we define sexual expressions or harmful sexual expressions?
It seems very clear that we can define what is sexual expressions or harmful sexual expressions when we just look at Facebook's policies. They say that under Facebook's Objectionable Content policy they restrict the display of nudity or sexual activity. For example, the images depict visible genitalia, anus, uncovered female nipples, implied sexual intercourse or oral sex, erections, etc. We can figure out that Facebook is regarding sexual expressions as the images or sentences that depict or provoke sexual behaviors. 
And under Facebook's Safety policy, they announce that they will restrict "any forms of non-consensual sexual touching, necrophilia, forced stripping, including depictions, or sharing, offering, asking for or threatening to share imagery, statements of intent, calls for action, admitting participation, mocking victims of any of the above, etc." We know that they regard those as harmful sexual expressions. And at least, there are no conflicting issues on the verbal definition of harmful sexual expressions. 
But the point is that there's no difference between why they restrict sexual expressions and why they restrict harmful sexual expressions. Facebook has announced publicly that they block such expressions because there are people who feel sensitive to those under the Objectionable Content Policy, and they want to block the possibility of distribution of non-consensual sexually violent expressions fundamentally under the Safety Policy. It seems meaningless to distinguish between sexual expressions and harmful sexual expressions because they apply the same regulation to both: deletion. My guess is that, although they use the word "sensitive", they seem to regard all sexual expressions as potential NCII(non-consensual intimate images) or potential harmful sexual expressions in the end. For instance, sensitive images such as images of blood and injured body parts survive moderation while only sexually sensitive images are easily deleted. I did a little experiment. A few weeks ago, I posted these two pictures on my Facebook feed. Both of them are artworks of famous artists. The first one, Robert Mapplethorpes' photograph(a man's side torso exposing the penis) was deleted, and the second one, Pierre & Jules's photograph(slit-mouthed woman) survived. 
So my guess is that they see sex itself as harmful, and that is why they apply the same penalty to sexual expressions as harmful sexual expressions although the former is not as harmful as the latter. Are the images or expressions which provoke sexual behavior dangerous or harmful? 
Also, I am curious about each of the definitions. Do such expressions like visible genitalia, erection, and female nipples always provoke sexual behaviors? If a spatula can provoke sexual behavior, should we include the image of a spatula in the criteria for sexual expressions?  What about the definition of harmful sexual expressions? What if the image looks like a non-consensual intimate image but it was a staged situation? I am always confused when I try to define what is sexual expressions and sexual harmful expressions and have failed to define what those are. 
2. Is takedown the correct response to sexual expressions? 
I said early that sexual expressions may be dealt with more leniently than harmful sexual expressions.
Under Facebook's Objectionable Content policy, they take down ads that contain adult content including nudity, depictions of people in explicit or suggestive positions, or activities that are overly suggestive or sexually provocative.
It is not incomprehensible, because they want the users to stay much longer on their platform. But the problem is that they delete the expressions unequally. According to the report conducted by Center for Intimacy Justice, 60 companies had ads rejected by Facebook, and about half of them said their accounts had been suspended at some point. Their ads included such words pelvic pain, menopause, menstruation, and fertility. But Facebook and Instagram allowed these ads to depict men's sexual power.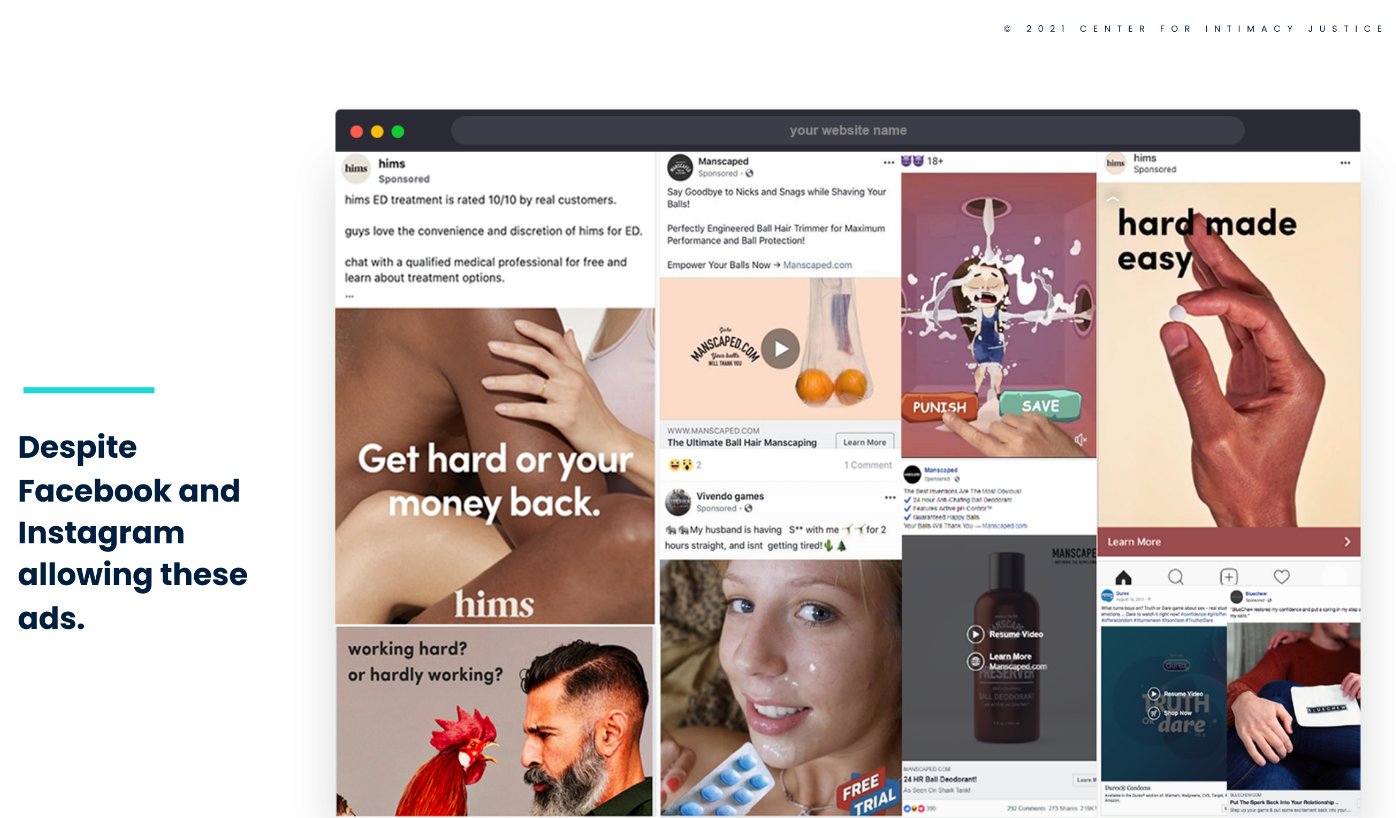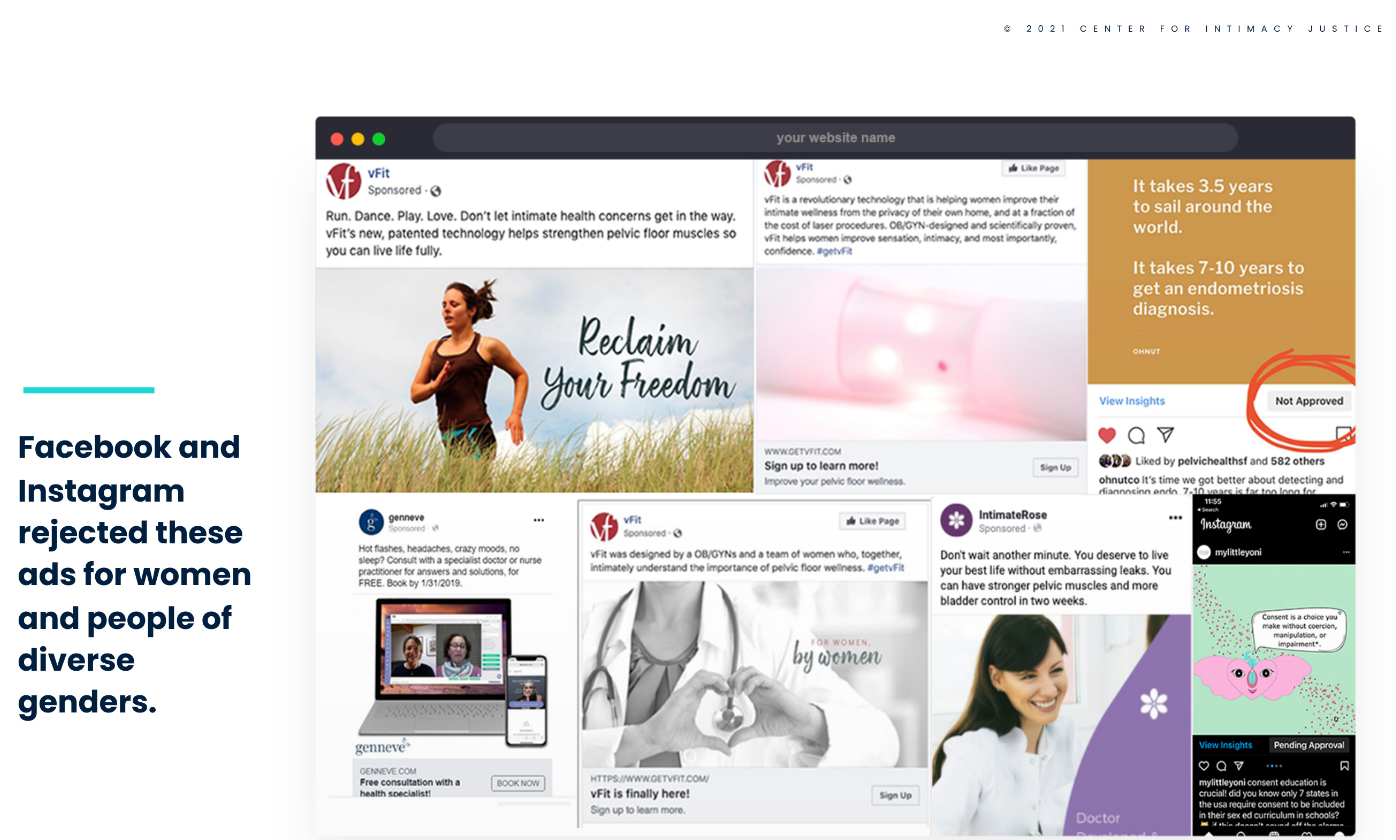 Image Source: Facebook's Censorship of Health Ads for Women and People of Diverse Genders, Center for Intimacy Justice
And what about these images that were NOT taken down by Facebook? This is the advertisement about lubricant on my Facebook feed. If I translate some sentences, "it's so soft, I want to touch it over and over again", "a night gel that can be used day and night after using it once", "a new play that stimulates the five senses." And in the video, the hands touch a fake ear and mandarin with the lubricant. Additionally, the videos are depicting sexual penetrations of the hands into a fake ear and mandarin. Mandarin and fake ear are the metaphors for women's vagina and their expressions are extremely "sensitive" and yet Facebook could not catch them while deleting many adult toy ads.  No matter how hard they have tried, we are still exposed to these expressions.
Image Source: Facebook
Unlike harmful sexual expressions, we should be more careful in taking down sexual expressions because it is very difficult to distinguish contents on the basis of sensitivity to people. 
3. Do you have any advice or opinions on the takedown powers that private companies have on the circulation of sexual expressions? 
I think it is very dangerous. What is sexual expression needed to be deleted from someplace is not a yes or no type of question? It's the type of value judgment. Value judgments are based not on facts, but on people's values and beliefs. So, what is acceptable in some communities is prohibited in others. Value judgments are mainly determined through debate, not through a "true or false" decision. And it can be modified when another comment from a different point of view or more meaningful opinion is received through fierce debate. Debating is the most important thing. Facebook has provided these images as examples that should be deleted by their regulation.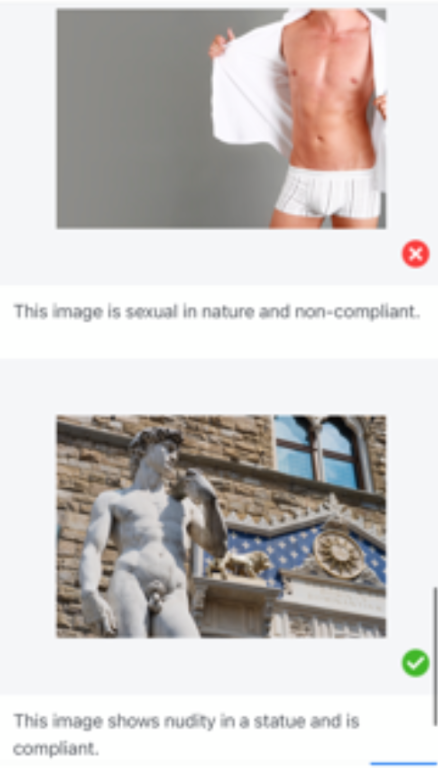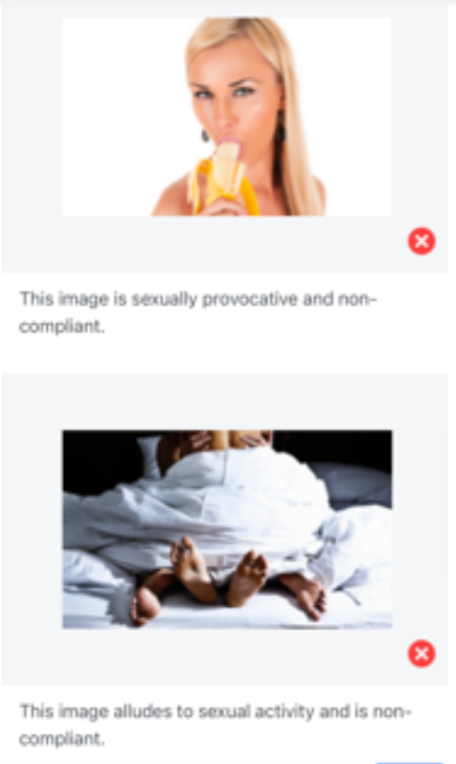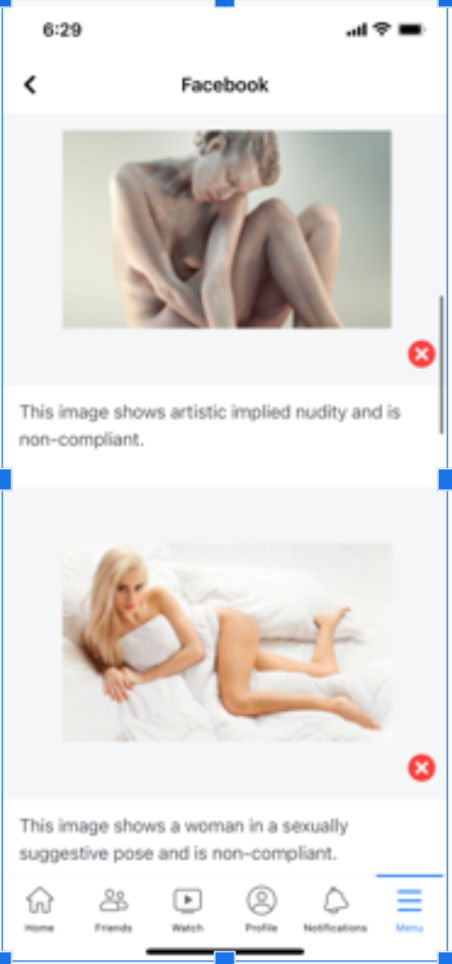 Image Source: Facebook
Such images objectifying women may make women uncomfortable. Women who value women's independence can criticize these images for the possibility of strengthening women's dependence on or subordination to men or patriarchal society. I think this aspiration helped to fuel big tech companies' ambition on censorship. 
However, criticizing such images or expressions and giving authority to someone to delete them are different things. It may not just delete an image but delete the process of debate and discussion from society. Value judgment cannot be fixed permanently even if they have been proven right or wrong once. Along with the changing of society or time passing, value judgments can be also overturned. To give authority of deletion to big companies means reserving these value judgments to private companies. I think it is very dangerous. I hope that I'm not too far from the topic. I just wanted to say, in short, that delegating someone's authority to delete a sexual expression for being "sensitive" to some people is like swiping over it with a translucent piece of paper without touching the root of the inconvenient problem.
4. What is the meaning of sexual expressions for gender equality, women's rights, LGBTQ people's rights, and even sustenance of democracy in the country? 
We already know that deletion does not mean changing society or solving problems. Recently, SNS feeds are full of postings about women being happy when they receive expensive gifts or money from their boyfriends or husbands. The conventional form of families also dominates the SNS feeds. From these expressions, we can ask the question. Has women's subordination really disappeared? Since the boyfriend-girlfriends relationship and conventional families are based on a sexual relationship, depending on the point of view, these expressions can also be read as misogyny.
I have no intention to promote division among women. But what is in my mind is that deletion of such expressions means regulating women and regulating women in this way may be toxic to women. For example, sex workers are the victim of such deletion. It makes them difficult to exchange information because their information must be deleted right away by the regulation. It makes them vulnerable. I can't talk about sex work for a long time because I don't have enough time. But one thing I want to tell you is that sex work is also a part of household chores performed by married women at home, which have been commercialized for a very long time. The point is that when household chores are commercialized, usually it is devalued or degraded on the ground that it is women's labor or is done at home. For this reason and with the reason that sexual behaviors become the content of the services, sex work is degraded even more severely. This devaluation of the labor included under the category of domestic work affects negatively married women who performed them without pay.  Deletion of expressions about sex work will worsen this situation.