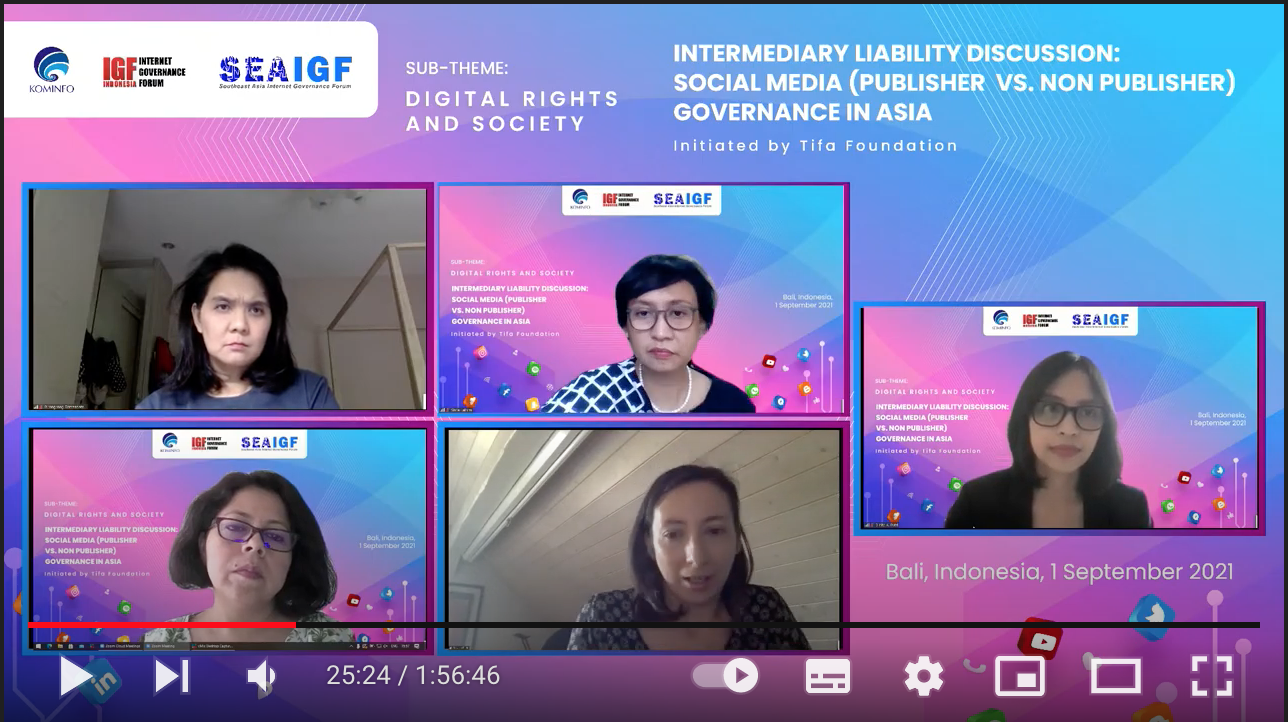 INTERMEDIARY LIABILITY DISCUSSION: SOCIAL MEDIA (PUBLISHER VS. NON PUBLISHER) GOVERNANCE IN ASIA
ROXANA RADU, Center Associate, Oxford Media Law
SHITA LAKSMI, Executive Director at Tifa Foundation
AMRITA CHOUDHURY, Director CCAOI
PIRONGRONG RAMASOOTA, Professor of Communication, Department of Journalism Faculty of Communication Arts, Chulalongkorn University
Moderator: DINITA ANDRIANI PUTRI, the Principal for Southeast Asia at Luminate, a global philanthropic organisation founded by The Omidyar Group.
Recording: https://www.youtube.com/watch?v=6_pHK05hYNk [transcript available]
Radu spoke on the origins and the trend of self-regulation followed by a quick look at the labor dimension of this discussion, the people who work to have our content curated online, and finally going into an overview of some of the regulatory initiatives in the EU at the moment. Choudhury and Ramasoota each discussed the intermediary liability rules of India and Thailand. Laksmi discussed MR5 and how it is being criticized by human rights organizations at length as follows:
I would like to go a bit deep dive on the minister regulations No. 5, 2020 because it is very interesting. what they define as the actors is any operator that has functions in commerce, financial transactions, transferring data or digital materials to data network, communication services, search engine and processing personal data. This also includes user-generated platform. 
What is interesting is the obligations for the actors: it should be registered in Indonesia. It should not violate the profession of laws and regulations. It should not be disturbing peace and public order. It should not provide tools and access to prohibited information or illegal content. It should give access to personal data they are processing to the government or authority when it is necessary for monitoring and criminal law enforcement. There's also a safe harbor provided for the actors for the actions to prevent the submission of illegal content. The types of sanction is like written warning, temporary suspension, access blocking and takedown of content and the file. 
What is very interesting is that there was a huge feedback on this regulation mainly by the human rights organizations. SAFEnet has asked government to scrap these regulations. Human Rights Watch also sends significant feedback on this which in which receive a lot of applause from many human rights activists and scholars. The government then decided to postpone the registrations so basically the registration deadline was in June 2021, and now postponed to December 2021 to make sure that they have a good mechanism in place. 
What is unique from these regulations is that this regulation is also based on complaints. So you can complaint, the minister can complain. the complaints could come from public from the ministry or authority or law enforcement and the court so anyone can complain on the content. So basically if i don't like someone's posting on facebook for example, I can ask facebook to take down or I can ask the government of Indonesia to pressure on facebook to take down. 
Also there is a timeline for urgent requests such as terrorism, child pornography and disturbing peace and public order, where the request must be fulfilled only within 4 hours . For all other contents, within 24 hours. If the platforms do not want to take down the content then the government can go to the internet service provider to block the access in which the internet service provider will have to obey. If not then, there will be sanctions. 
So this is a very interesting for discussions on the regulations compared to what happened in EU perhaps.