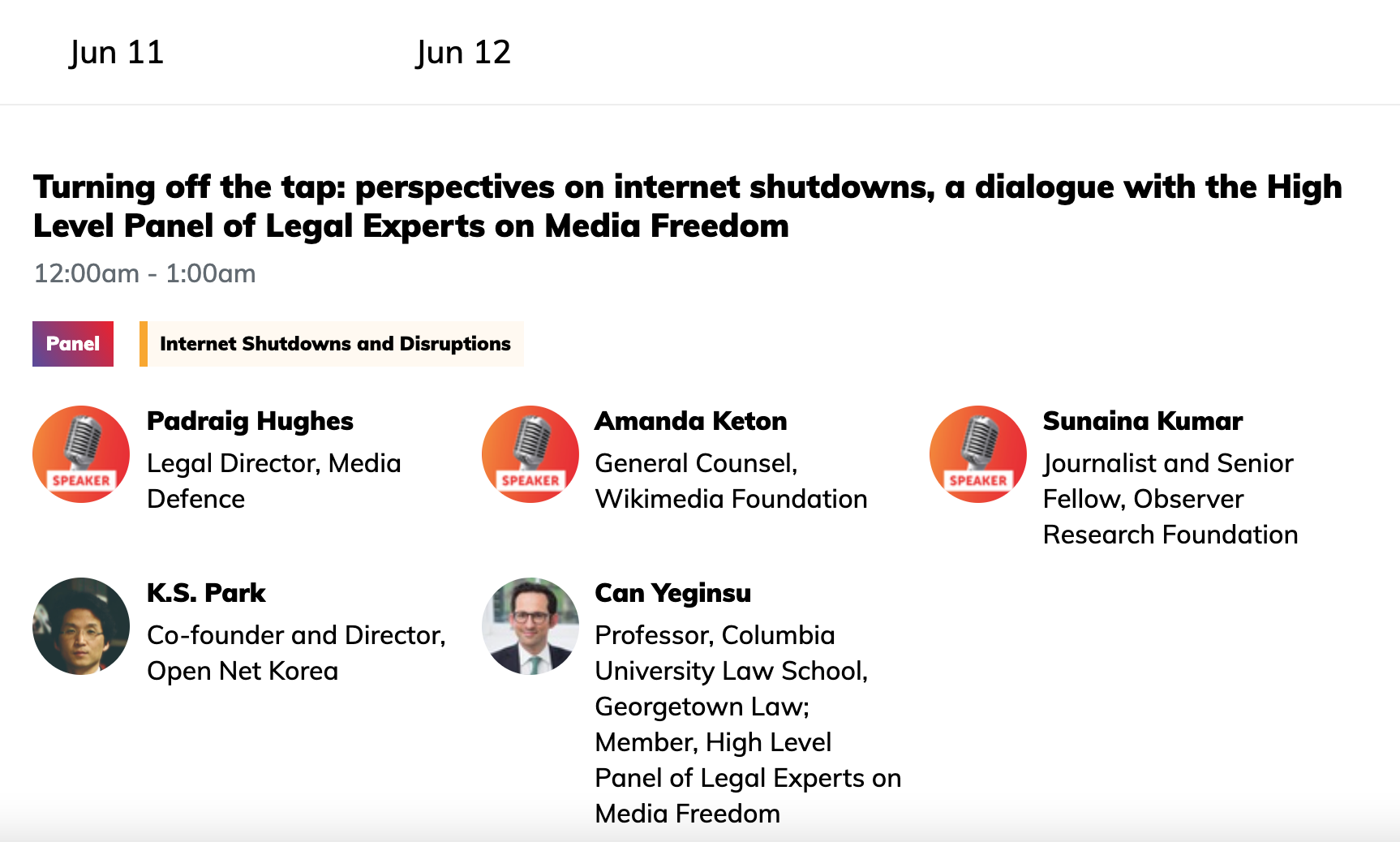 K.S. Park spoke at a June 12 Rightscon 2021 session on Internet shutdowns as follows:
Standard model
• Access Now (2016, Primer): "ICCPR 3-part test sufficient. Just need guidance. No single internet shutdown meets the test"
• Legality – Legitimate aim – Necessary and Proportionate
• 2011 UN HR Committee's GC 34, para 34 – "must be content-specific", "generic bans not allowed on certain sites and systems"
UNHRC "online=offline" (2012, 4, 6, 8) – what does it mean? Existence of online "as a precondition"? Not helpful. Maybe interpretable in reference to risk of water-tight prior prior censorship online which is not possible offline
2016 UNHRC "should not prevent or disrupt access to info dissemination in violation of int'l law"
UN & regional FOX Special Rapporteurs – mainly condemning from N/P angle and protecting access to knowledge–> Maybe clear on internet shutdowns, NOT specific enough to provide litigational support or abate platform blockings with granular normativity
Difficulty – so many laws cf. stopping shutdowns
• 2019 UK shutdown London underground to stop climate protests
• 2011 SF shutdown of mobile internet in subway to control a protest
• GNI 53 countries survey + Freedom on Net (2017-8) 66 countries survey –> 47/55 laws enabling shutdowns and 52/57 blockings
Challenges of drafting a "Model (soft international) Law" on Internet shutdowns
Definitional: internet shutdown vs platform blockings
• What are we fighting for? PB can be damaging as IS but PB bleeds into blocking-type content moderation which we cannot completely ban
Legal: ITU Constitution Ch. IV-4, Article 34(2) – States reserve the right to cut off private telecommunications dangerous to national security
Structural: ISPs receiving grant of public goods – bandwidth and easement on underground conduits and electric poles –> "public interest obligations" –> who decides what is in public interest –> open up legal room for govt to engage in internet shutdown
2nd-order Objectives 
How to support litigations against internet shutdowns – procedural and statutory roadblocks more effective than substantive (Rathi & Basu, "Dialing in the Law", APC, 2020)
How to support ISPs in challenging shutdown orders –appeals to internet shutdown order – ex post/ante judicial orders
How to support states trying to make granular legislations that support necessity and proportionality – prevent "hammer-nail" thinking• Web pages (URL) v. web sites (TLD) • Content v. URL/TLD • Blocking v. Takedown
• ISP v. CP • General purpose platform v. Special purpose platform
How to support states trying to balance between ISP's public interest obligations and free speech –> ISP's public interest obligations enforced through shutdown v. fines
Recommendations for model law
Shutdown & general purpose platform blocking – not allowed at all times even regionally unless consented to by users (no more subway WIFI shutdown)
Special purpose platform blocking (Akdeniz) & non-platform blocking (& takedown)– judicially ordered – Manilar Principles for Intermediary Liabilityàif urgent, administrative appeal (Germany)
Judicial standard must N/P and must include 'prior censorship' analysis (Inter-American Com HR)and 'retaliatory ban' analysis (Brazil Whatsapp ban)
ISPs disciplined only civilly, should not involve shutdown of serviceà if license taken away, public "taking"
Big question
• Will a model law invite more internet shutdowns?
Gregorio & Stremlau, "Internet Shutdowns and the Limits of Law" International Journal of Communication 14(2020), 4224–4243
Tomiwa Ilori, "Life Interrupted", GNI (2020)
59 people participated out of which 37 were female.
View the recording of the session